Donations
Placerita Canyon Nature Center Associates is a 501c3 non-profit organization whose mission is to inspire a passion, awareness and respect for the environment and preserve and protect for future generations the history and ecosystem of Placerita Canyon.  We offer public education programs and are rebuilding our museum into a state of the art interpretive center. We need your donations for our programs and operations including taking care of our educational animals who live on premises.  All donations are tax deductible and we will acknowledge your donations with a letter for your tax file.  You will not be put on a mailing list and please accept our thanks for your generosity.  
Please make out your check to "PCNCA" (Placerita Canyon Nature Center Associates) and drop it off at the nature center or mail it to:
PCNCA
19152 Placerita Canyon Road
Newhall, CA 91321
If you'd like to receive a year's subscription to our bi-monthly newsletter, please send $30 to the above address. Please indicate if you'd like a mailed copy (black and white) or an electronic copy (full color) sent to your email address. Please print your information and include a phone number.  Purchasing a subscription entitles you to a ten percent discount in our gift shop.
Other ways to donate include our Adopt an Animal program or stop by our gift shop in the main office.  Our gift shop contains many children's items for under a dollar as well as nature books, tee shirts, and games.
Thank You for Your Donations
Placerita says Thank You to the following three partners for contributing to our facility.

Whole Foods Market
For donating the three cases of tasty Energy Bars and Recyclable Shopping Bags for our weekend hikers, visiting guests and crews here at the facility.

Big Lots
For donating the over 60 Rolls of Holiday Gift Wrapping Paper for underprivileged families and individuals throughout our community.


Curtis Gravel
For donating approximately 11 Tons of Pea Gravel to Placerita to fill in, and therefore complete, our new Butterfly Garden Pond, constructed by an Eagle Scout. This gravel will also be used as substrate for bird enclosures, on site and off.
Placerita Wish List

Donations are always welcome at Placerita. We now have a "wish list."
Following are items we could use right now:

Towels
Black pens
Railroad ties
Rebar
Digging bar
Orchid bark animal enclosure substrate

Coconut fiber animal enclosure substrate

Calcium sand animal enclosure substrate natural earth tone colors

Reptivite reptile vitamin supplement
Bookends
Cricket food
Heating pads
Plastic animal containers (with lids)
Animal carriers (crates)
Chainsaw with 20 inch bar

If you can help, please call the center at 661-259-7721, or email info@placerita.org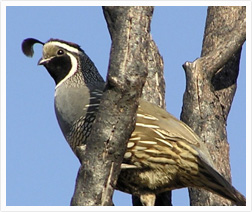 California Quail frequent Placerita Canyon